For many years now, Timpelen farm has been regarded as one of the best-performing dairy farms in Norway, with their herd ranked among the top ten for milk production in 2020.
Tell us about your farm and what's your secret of running a successful and profitable farm
We run our farm in the southwestern part of Norway, where my family is from. Together with my wife, Inga, who is also very passionate about agriculture and breeding genetics, we have decided to focus on milk production.
Currently, we manage around 50 cows, and our main criteria are probably similar to many dairy farmers in Norway or anywhere else, which is to breed cows with good conformation, production, feed-efficient cows, and longevity. The Norwegian Red has been a good choice for us, and they have proven to be very competitive, so having Norwegian Red in our herd is the secret to our success, really.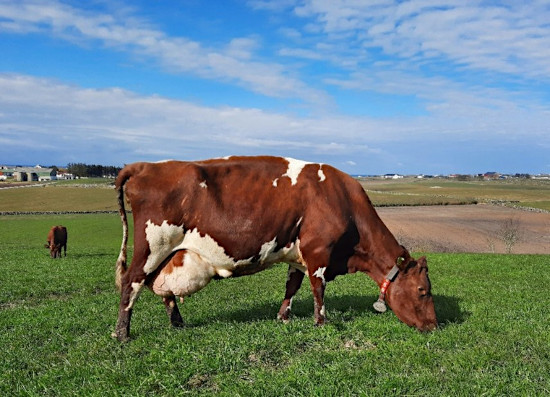 At Timpelen farm it's normal to see cows lasting for many lactations and this is a great example. Photo of 668 Gorvi, born 13.11.2011, sired by 10565 Garvik and maternal grandfather 10183 Aasheim. Gorvi passed 100.000 kg milk on her 9th birthday, 7 lactations, and SCC <50!! She is now in her 8th lactation and milk >60kg/day. Photo: Inga Skretting Timpelen.
Tell us a bit more about your herd management; what are the most critical aspects for you to consider, and what are your main goals?
It is essential for us to run a well-managed and effective farm, and we always focus on improving the herd's performance. This is achievable when you make sure you have cows that are robust and healthy in your herd.
The most important characteristics of a cow for us are good structure udders, feet and legs, and feed-efficient cows. We are especially satisfied with our cows since most of them did not experience weight loss after calving, and they remain with a good body condition score and energy balance, which led to good fertility. In addition, we have also invested in a milking robot to help with our milking operation; therefore, we need cows with excellent udders.
We are glad that you are satisfied with the Norwegian Red breed, but can you tell us why, and what do you think the strengths of the Norwegian Red breed are helping your farm now?
Like most farmers, we want the best possible genetics for our herd. We are very satisfied with Norwegian Red as it has helped us reach maximum production that contributed to profitability.
Norwegian Red has been known for its excellent fertility and health, and with its medium-sized cow, it sure is feed-efficient, and if you look at it from their milk production, it is very competitive. Having healthy cows also means that we encounter very few treatments for cow diseases such as mastitis; now, we only have one mastitis treatment a year (on average). Finally, for us, robust feed-efficient cows with good production, superior longevity, and functional udders are important; therefore, NR has been the best choice for our herd.