At the beginning of September this year, we visited a Norwegian farmer, Hans Ulberg at his farm in Sør-Fron – about 200 km north of Oslo. It was a beautiful late summer day, with spectacular views and we saw a flock of cows still enjoying the outdoors and grazing.
The new barn has been built in 2013 next to the existing one where the young livestock is now placed. The building is built completely made of wood and has been integrated with an automatic feeding system and a milking robot.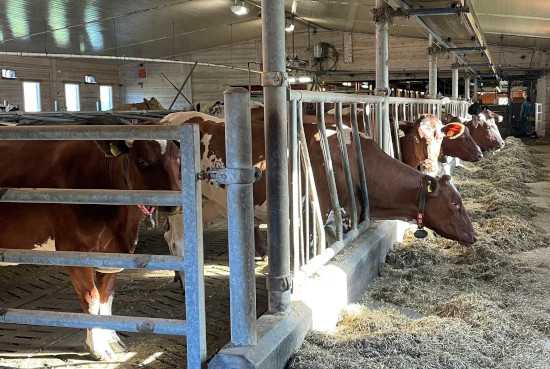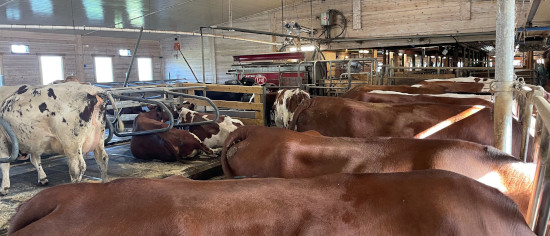 The new barn was built in 2013 with a milking robot and automatic feeding system. Photo: Turi Nordengen
Exceptional performance
For those familiar with Norwegian Red genetics, it is no surprise to hear that Hans's herd consist of pure Norwegian Red cows with exceptional performance in milk yield (11.586 kg.ECM/cow), milk quality (4.23% fat & 3.71% protein), reproduction (most of the cows are pregnant at 1st insemination without the use of hormones), and health status (almost no disease recorded, post-calving issues practically not existing).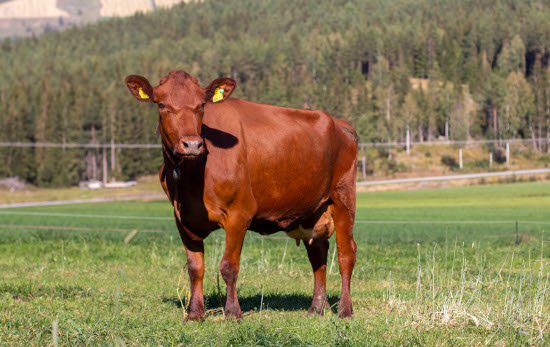 A daughter of Norwegian Red sire 11284 Skretting, 2nd lactation. Average milk production 10.539 Kg milk, 4.31% fat & 3.71% protein. Calving interval 11.5 months. Photo: Turi Nordengen
"I'm very satisfied with the current herd: I like udders conformation, and I believe is the trait, together with milk production, that has improved the most in recent years in the Norwegian Red breed. We have been able to reach about 12.000 Kg of milk per cow/year, but I then decided to reduce it a bit because I preferred not to push the cows too much, mainly for ethical reasons. Today the herd averages 11.586 kg.ECM/cow with 30 Kg of concentrates supplied for every 100 Kg of milk produced. Feet & legs conformation is also good (Ed.: during our visit we didn't see any lameness in the whole herd) and hoofs health has improved since we started to do trimming twice/year."
All inseminations are made by a veterinarian and Hans has a clear opinion on this: "I believe the system we have in Norway with the majority of inseminations made by veterinarians is a good model and works well, I also believe it's an effective way to support their income."
Hans has also a clear opinion when it comes to the Norwegian Red bulls to use to inseminate his heifers and cows. "I fully trust Geno's breeding plan; I don't even know the names of the bulls I've been using since I'm fully committed to the plan. Of course, I give my input and my aim is breeding for cows that last for many lactations in the herd. My father has also done an especially important job since he had always selected good bulls and we've always had important support from our genetic advisor."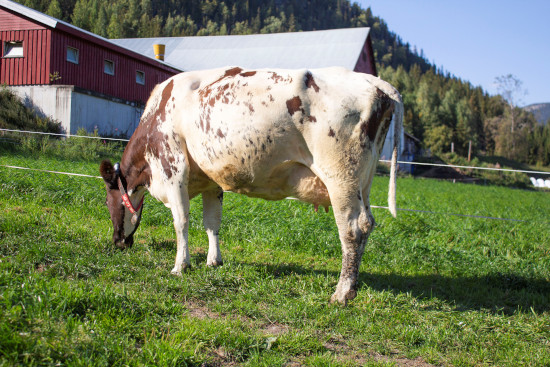 A daughter of Norwegian Red sire 11845 Horneman, 2nd lactation. Average production 8.789 Kg, 4.92% fat & 4.05% protein. Calving interval 10.7 months. Photo: Turi Nordengen
Hans is now doing the genomic tests of all the animals in the herd, he is using RedX (Norwegian Red sexed semen) and has also recently started using high genetic merit embryos to further improve his herd.
Long-term focus on fertility and health
Hans strongly believes that the advantage of Norwegian Red compared to other dairy breeds is the long-term focus the breed had on fertility and health in its breeding goal.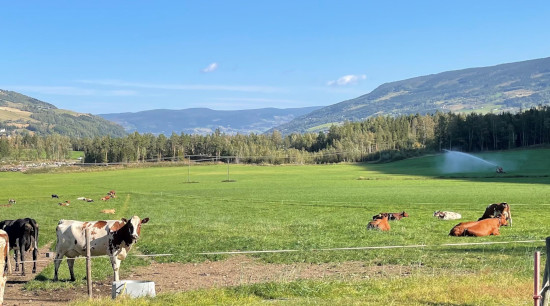 Cows outside at Ulberg farm. Photo: Turi Nordengen
"You can't achieve real progress in those areas unless you put a lot of focus on your breeding goal and rely on very accurate data. And this is exactly the unique situation we have in Norway. A lot of accurate data and a high focus on health and fertility started in the '70. Norwegian Red is a dairy medium size cow with a mature live weight of about 600 Kg, with strength and muscles, a good udder conformation that easily adapts to AMS, good locomotion, and excellent fertility and health traits. It is not easy to combine a herd with high milk production, great fertility, and almost no sick cows during the year and this is possible only because my herd is made up of Norwegian Red cows."
"Genetics is an important tool dairy farmers can benefit from, and I experienced it again when we switched to AMS. We saw a dramatic improvement in milk yield meaning the genetic potential of the cows was already there, ready to be used."
Before leaving we ask Hans a question that dairy farmers internationally usually ask us.
"You have achieved superb performances with your cows. High milk yield, excellent fertility without the use of hormones, excellent health status. Do you think you would have the same results if you had a 200 or plus milking cows' herd?"
Hans didn't hesitate even for a moment: "Yes, I'm sure I would. If I could guarantee the same conditions in terms of welfare - cow comfort, access to feed, and water – I would have the same great herd."