We met with one of the owners, Filippo Bozzini, at the beginning of August this year, a few days after the herd was moved into a brand-new facility. The new barn has around 3.000 sqm with 4 automatic robots milking the 250 cows that also compose part of the whole herd. Adjacent to it, there is a compost-bedded pack barn for the young livestock which has been completely refurbished and improved to ensure good animal welfare.

Bozzini Farm registered brand Gran Milano. Photo: ABS Italy and Geno
Animal welfare in focus
"Animal welfare is especially important for us, and it is considered as one of the pillars of our prevention strategy. We are extremely focused and only utilizing the best tools to build a healthy and efficient herd of cows - both when it comes to management, cow comfort, technology, and genetics. I believe that prevention it's much better than cure," says Filippo.
The new barn for milking cows has wide enough cubicles to allow them to lie comfortably. A good depth and cleanliness of bedding create the right comfort and prevent knee swelling and hock injuries. Plenty of cooling fans to keep the cows at the desired temperature and humidity preventing heat stress. In this area of Italy, heat stress is a big challenge during the summer months, creating a negative impact both on reproduction and milk production. Four milking robots allow the cows to decide when and how often they are being milked.
Bozzini Farm has been continuously growing over the past years, and they are also expanding their core business - bovine milk production - to energy production both from photovoltaic and biogas plants. In 2016, Filippo and his four brothers also bought another dairy farm, adding 250 milking cows to their herd.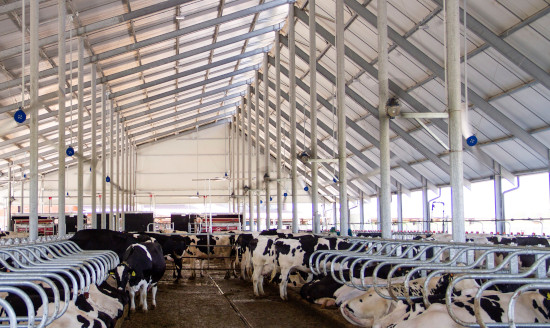 Milking robots, cooling fans, and wide spaces for top cow welfare.
Certified as organic since 2015
"We switched to milk organic production in 2015 as we wanted to get an added value to our product and be rewarded for that. Of course, it was not an easy path, and it demanded huge efforts to set everything properly according to the regulations, but we are pleased with the decision we took. The demand for organic milk has been steadily increasing in Italy, and the trend remains positive.
With a view of continuous improvement and differentiation, we also have recently started to produce "hay-milk" which differs from conventional milk based on how the cows are fed."
Most of the decisions at Bozzini Farm are taken based on financials and this is the case also for genetics according to Filippo.
"We started using Norwegian Red genetics years ago. We were looking to improve especially the health status and fertility of the herd and we heard about other farmers both in Italy and internationally doing crossbreeding with Norwegian Red and Holstein with positive results. I also went on a trip to the Netherlands to see some of those herds and I came back with positive feedbacks."
"The Norwegian Red crossbreds have proven to provide good milk components and yield, they are healthier than pure Holsteins and with shorter calving intervals. They are medium size cows as we want with good locomotion and work well in the milking robots. Our ideal cow is the one that you usually do not notice in the herd, the invisible cow. As said, it is very important that it works well in the milking robots, and based on experience a healthy cow is a perfect cow for AMS (automatic milking system). Other important traits in the genetics we select are the polled gene, the beta-casein A2A2, and the kappa casein BB. Milk components are more important than yield as we are focused on producing high-quality milk."
We said that at Bozzini Farm they never stop improving and innovating themselves and in this regard, it is worth mentioning that they have recently registered their own brand named "Gran Milano" which will shortly be used to commercialize their own dairy products, mainly cheese aged from 9 to 36 months.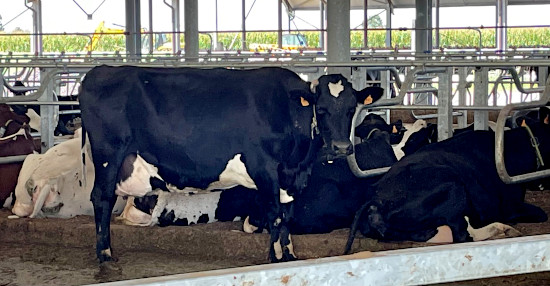 Bozzini farm - Norwegian Red x Holstein crossbred in 3rd lactation.
Antibiotic-free herd
As we wrap up, we ask Filippo if there is any other new project they are focusing on.
"Yes, we do have new projects in mind. The next one would be to breed cows that are not treated with antibiotics during their entire lifetime. An antibiotics-free herd that produces high-quality organic milk and Norwegian Red genetics will make this process easier."