Achieving excellent fertility results has been one of the core commitments for Geno's innovation team. To achieve this, Geno must identify and pre-select a line-up of bulls that will produce well and deliver product of the highest quality from our laboratories. Each straw must be handled with care in nitrogen containers while in storage and during transport, our AI technicians highly skilled and trained, and finally, insemination time optimized.
Results for conventional semen
We are delighted to present results that show solid fertility for conventional semen (see Figure 1). Fertility in the figures is given as a percentage of cows and heifers not inseminated again within 56 days after insemination (non-return rate after 56-days, NRR56). Note that fertility fluctuates to a certain extent with the season (month), which can be expected due to, among other things, the reproductive physiology of the cow and the management system.
If we look at the fertility of conventional sperm per month from 2018 to 2022, we can see that NRR56 is above 72%. The fertility of Norwegian Red is very competitive compared to what we see in other breeds in the global market. It is also worth noting a particularly positive trend for the measurements made in 2022.

Result for REDX – Norwegian Red sexed semen
We also see a positive trend for fertility for REDX. In recent years, extensive work has been done to ensure the quality of Geno's popular sexed semen, REDX. In Figure 2, we see that from June 2021 onwards, NRR56 has been higher than the same month in the previous year (and partly also the years before that).
The improvement in fertility has been registered in the period that follows long-term and systematic quality work in REDX production and the field. The work focuses on close collaboration between Geno and our partner and supplier of the technology, IntelliGen Technologies in the USA.
The head of the REDX department and laboratory, Nina Hårdnes Tremoen, says that the main priority for the team is to produce top-quality REDX semen for global customers. To anticipate the strong demand for REDX from the global market, the REDX lab team has started three shifts around-the-clock production starting from March 1, 2022, with more skilled laboratory staff added to increase production capacity.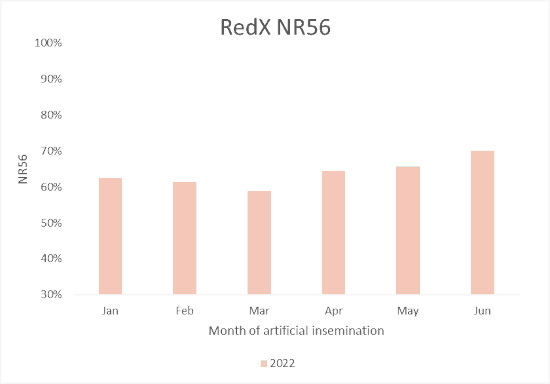 Semen production and AI field team
The touchstone to achieving good semen quality and fertility results after insemination is already established from the birth of the animal by optimal feed and health status required from day one. To determine the frequency of semen collection and its potential for producing conventional and sexed semen, the semen quality, genetic value, and demand for the bull are assessed. The Bulls are constantly monitored to optimize production and ensure that the entire process is based on good animal welfare practices.
Conventional semen and REDX (sexed semen) are produced in two different laboratories at Genos breeding station, due to the requirement for different specialist skills for each laboratory team. Nevertheless, good cooperation between the two laboratories is always part of the process to achieve top quality and efficiency across the board. Geno has also put a lot of focus on product and service quality, and offers continuous training for the laboratory team, to maintain best practice, professionalism, and effective standard operating procedures.
In addition, Geno has a specific focus for our AI technicians in the field, because there are slightly different requirements for insemination with REDX compared to conventional semen. Geno has conducted regular meetings with the AI team to discuss and emphasize the importance of good insemination routines.