12027 Storflor is a high demand bull with a great trait profile. He has high component percentages, excellent mastitis resistance, gives excellent udders, very good for heifer matings and his beta casein is A2A2. He is a very popular sire in many markets!
Storflors pedigree is very interesting and exciting. His sire is 11819 Onstad, paternal grand sire is 11033 Reitan 2, maternal grand sire is 11078 Gopollen, which again means 10177 Braut is his maternal great grand sire!
Enthusiastic breeders
His breeders are Karoline and Odd Magne Storflor. Their farm is located in Trøndelag, Norway. Karoline and Odd Magne is trusted breeders who have delivered several sires and heifers to Genos testing- and AI-station.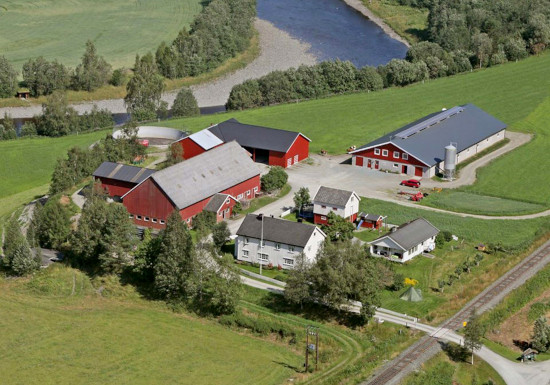 Kilnes farm in Trøndelag, Norway. The newest barn is from 2012, and houses cows and heifers. They are also rearing bull calves in the old barn. Photo: Kilnes gård.
Award-winning bull
In 2019, 12027 Storflor was in the run to win the much sought after breeding award for Norwegian Red in Norway, but lost at the finish line against 11997 Trannmel. Yet, Norwegian producers love Storflors genetics, so he won "Favorite of the Year" the same year. The next year, 2020, Storflor won the "Export Price", which means he is the most popular Norwegian Red sire internationally!
Get in touch
We will help you find a local expert!
Fill in the form on this page