With the new genetic evaluations available now in most countries, The US Ayrshire rankings include bulls from all countries with Ayrshire or Red Dairy Cattle populations.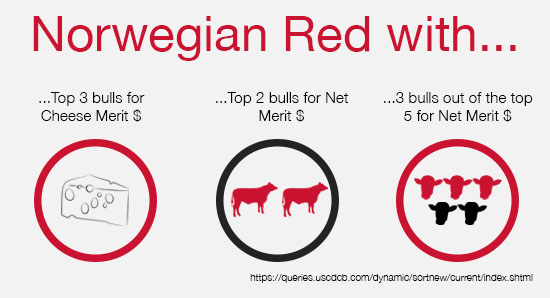 Exceptional daughter performance
The report has confirmed exceptional daughter performance by NR when used outside of Norway. Roen (252NR11690) and Reitan 2 (252NR11033) rank first and second on the US NM$ list with Onstad-P (252NR11819) taking the 4th spot on the NM$ list. These same three bulls also make the top three spots on the US CM$ ranking. Roen and Onstad-P are daughters proven, and both are alive with semen available in many markets.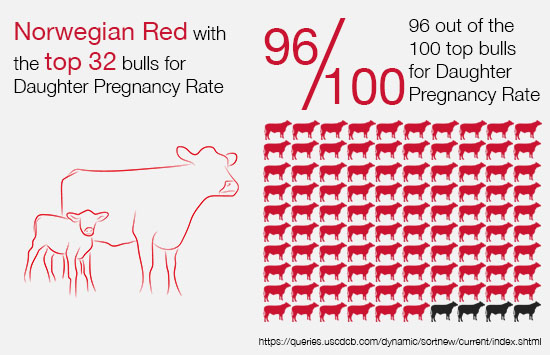 Norwegian Red remains the global leader in terms of daughter fertility, and NR sires will improve fertility when mated to other breeds. It is also worth to note that Norwegian Red sires have taken the top 32 places on DPR (daughter pregnancy rate), the key US measure for daughter fertility, while at the same time occupying 96 of the top 100 bulls in the US for DPR.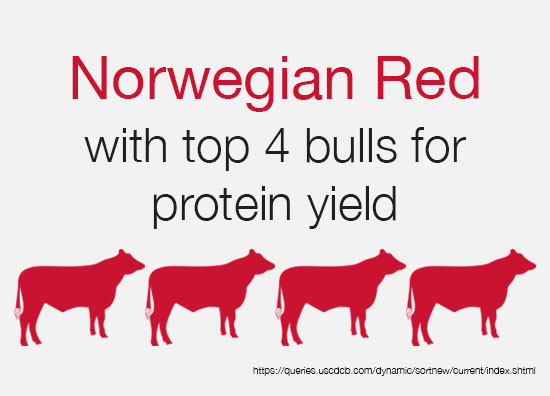 The Norwegian Red sires also perform exceptionally well for protein and fat yield, with the top four bulls in the US for protein yield are NR, and 7 of the top 10 are NR (43 out of the top 100 for protein are NR). In addition, 5 of the top 10 bulls for fat yield in the US are NR (31 out of the top 100 for fat yield are NR).
At the same time, Norwegian Red also excels at udder health with the top 3 bulls for somatic cell score (SCS) in the US and 31 out of the top 100 for SCS in the US. It is the combination of high daughter fertility, outstanding health traits, high fat, and protein production, as well as moderate body size that continues to drive the popularity of NR for crossbreeding in commercial herds all around the world. We invite current and new customers to review our positive results and what the NR has to offer for their herds.