We connected with Liam Healy - HYVIG UK Manager at Genus ABS to learn more about how the dairy farming industry in the UK has adapted to the many changes of trends and consumer demands, and how his contributions have been key to drive great results in the UK.
When did you start partnering with Geno and Norwegian Red?
I've been working with Geno and Norwegian Red for over 10 years now. It was back in December 2010 that I visited my first farm with Norwegian Red crosses. I remember it well, (not only for the fact that it was not far from -20°C) I had only recently stopped working as a herd manager on a relatively intensive Pedigree Holstein herd doing 11,000 kgs.
As I walked around the herd I could not get over the fact that these slightly shorter, well-conditioned animals were outperforming their Holsteins herd mates, not only that but they all had udders that I would have been delighted with on the Holstein cows I had managed. It was this farm visit that made me question everything that I thought I knew about breeding cows.
Describe the dairy industry in the UK
The UK has arguably the most diverse dairy industry that you'll find anywhere when it comes to production systems. We have herds milking once a day where the cows never see the inside of a shed (not even the milking parlour has a roof) and on the opposite end, we have herds that are milked upwards of three times a day and are housed year-round. As you'd expect with the variation in systems, we see the same variation in production.
The once-a-day herds produce ~3000kgs with the focus on quality over quantity and the higher-yielding herds doing +13000kg where the weight of fat & protein kgs matter. 45% of the UK milk goes straight to the shelves, the payment system for these milk contracts puts little emphasis on the quality so this favours the high production systems. The other 55% is used in manufacturing and pays heavily on the milk quality so a higher proportion of the herds supplying these contracts operate lower-volume systems.
With that said there is a general trend towards all milk buyers rewarding quality. It is estimated that by 2030 only 38% of UK milk will be sold as liquid, so many producers are future-proofing their businesses by aiming for more quality. As with most other countries we have also seen a shift in what makes up our national herd, 10 years ago there were over 16,000 dairy herds in the UK and today we have lost over 25% of them and are left with around 12,000. While the herds have dropped we've not actually seen a reduction in the National herd and we still have 1.8 million cows, so herd size has grown to 150 cows.
What's the perception of crossbreeding? Has it changed over the years?
Crossbreeding is not something new to the UK Industry, almost every herd will have crossed Holstein onto their British Friesian cows to have the cows they do today, and the generation before that will have crossed British Friesian onto their Ayrshires, Shorthorns, Guernsey's, etc. With these animals subsequently bred into purebreds that initial crossing was however not seen as crossbreeding.
The saying goes 'There's no point being the richest man in the grave', but as I like to say, 'There's no point having the prettiest cows in the abattoir.'
Much of the 'modern' crossbreeding started in the low input grassland herds that took inspiration from New Zealand dairy herds where Jersey was the cross of choice. As a consequence of this crossbreeding quickly picked up a reputation as only being something relevant to low-input grassland systems. It was not until the early results from the Californian Trials that this misconception began to be heavily challenged. Up until this point it was largely seen that poor fertility was the trade-off for high production, the Californian trials showed that by crossbreeding you could have both! Over the last 10 years, we have seen that stigma around crossbreeding being a solution for low inputs only almost disappear.
Those farmers that tried crossbreeding 5-10 years ago, now have entire herds of crossbred cattle, and almost everyone one of them says they wish they had done it sooner. For many years there has also been a focus on how cows look, and undoubtedly the Holstein is the Queen of type. This has always created some resistance to crossbreeding as the misconception is that crossbreds don't look 'pretty', but with the main reasons for cows leaving the dairy herd being fertility, lameness, and udder health priorities have been refocused.
Producers are increasingly looking for function over beauty, and therefore a good cow is no longer the 'prettiest', but the most profitable. A crossbred is less likely to win a show, but she'll still be in the herd after many others have left, and is that not what matters?. The saying goes 'There's no point being the richest man in the grave', but as I like to say 'There's no point having the prettiest cows in the abattoir.'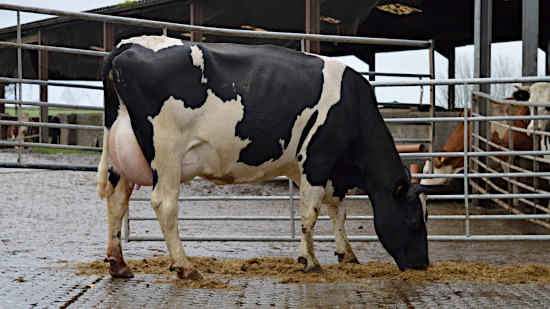 Norwegian Red on Holstein dam in UK. photo: RICHARD BOSTOCK, Genus ABS.
What are the main drivers for the sale of Norwegian Red in the UK?
When I visit producers I always want to get an understanding of the type of animal that they feel suits their system, and where they see their farm in 5 years time. Pretty much every one of them says that they want their cows to be smaller, they say they want their cows to be more fertile and overall they want more efficiency. By introducing NR to your herd you can achieve all of this in that time frame!
As said, the UK has a variety of dairy farm management systems from extensively grazed to all-year housed systems with high input/output and many in the middle. Does Norwegian Red fit all of them?
Regardless of the system, producers are looking for cows that can maintain or improve production, they're looking to end up with medium-sized cows, and they want them to last and get pregnant.
Crossing with the Norwegian Red can achieve all this, you just need to pair them up with the correct other breeds to achieve it. If you are running an extensive system and you cross NR with a high yielding Holstein then you're not going to get the animal you are looking for, but if you cross it with a British Friesian, a Jersey or a low stature, high fertility Holstein the likes that we would see in Ireland then you're absolutely going to have the right animal. That same high-yielding Holstein crossed with a Norwegian Red is however going to be the perfect animal for a higher input system.
Crossbreeding is not complicated, you just need to ensure that you're making logical breeding decisions based on your herd circumstances.
What are the main trends in the dairy industry? What dairy cow UK farmers should expect to fit those trends in the next 5 years?
Consumer is King! Growing pressure is coming onto retailers about the environment, about the health and welfare of animals, and the price of food. All these are being rolled down back down to the farmer, and in order to still be in the industry in 5 years-time it is clear that producers need to take these things all seriously.
Almost all milk contracts in the UK now require environmental and health data to be audited from the individual farms to keep the contracts, increasingly we also see bonuses and penalties coming off the back of this. Therefore we increasingly need to be breeding for cows that are free from health issues and therefore require less treatment and vet intervention. We also need to have cows that can produce more from less, ideally cows that can produce more milk from locally produced forage and less from feed that is hauled in on lorries. It goes back to that phrase of 'smaller, more efficient, more fertile'. Controlling the cost of production has always been important, but it is going to become increasingly important.
Is there a typical user of Norwegian Red? What are the characteristics?
I don't think there is just one type of user of NR, but there certainly is something that they commonly share. It tends to be those producers that are more focused on driving efficiency and profitability.
Those farmers that recognize that having a herd of healthy cows is really important, but also want 'invisible' cows, the type that gets on with the job with little fuss. The type of cow that calves in and you hardly notice she is there until you are drying her off again. These producers are increasingly looking for a work-life balance that allows them to get off the farm, and enjoy times with their families.
Based on your extensive experience with Norwegian Red, what are your suggestions to a dairy farmer approaching it for the first time?
If you are already at the stage where you think crossbreeding could be a good option for you, then I would urge you to just go with it. Many times I have worked with producers that have tried a bit of crossbreeding, these animals finish their first lactation and they are delighted with them. If they'd crossed all their herd at that time then they'd very quickly have an entire herd of crossbreds, instead, they've now go to wait another 3 years before the next crosses enter the herd.
It is important to do your research and work with people who are going to ensure that the breeds and bulls you choose are going to match your long-term plan. The worst thing you can do is try several different breeds without a plan, you don't end up with a herd this way!
Which traits are the most important when you select Norwegian Red sires for your market?
With the increasing focus on milk quality I always try to go with bulls that are positive for milk quality, the average fat & protein percent of a Norwegian Red is higher than that of a Holstein, but I still want to maximise this where possible. Equally, I want to choose bulls that have good milk kgs, this way we can not only have good quality but also achieve good kgs of milk solids. As these animals are going to be in the herd for a long time, it is important that some focus is put onto functional udders, we want to be sure the udders match the long trouble-free life of the rest of the cow.
Most NRs have superior health to other breeds, so as long as they are around average for health traits I know that they are going to improve the current herd performance. I tend not to focus heavily on feet & legs as what we really want is cows free from lameness, so I use the lameness to directly select for reduced lameness as opposed to hoping to get it from feet and legs that 'look good'.
What do you like the best about your job?
I have a real passion for dairy farming, there is always something you can learn and something that you can educate others on. For me though, the bit that gets me out of bed in the morning is knowing that I am making a real difference to people's businesses and in turn their lives. Even though I have worked with some of my customers for 10 years I still get a buzz when I turn up on the farm and they show me the herd, they update me on the herd performance and the progress that they have seen in the herd. One customer said to me 'it has put the pleasure back into farming', for me it does not get much better than being told that, and knowing I was a part of it!