By Knut Ingolf Dragset
Norwegian Red genetics has shown steady and healthy growth in China, providing top quality cattle for healthier and more sustainable dairy products in the increasingly health-conscious market.
Rumour has it, that Norwegians are born with skis on their feet. The exceptional performance of Norwegian athletes in winter Olympic events has shown that winter sports have been introduced at a very early age in Norwegian society. But that's not all, Norway has also been focusing on health and sustainable food production for Norwegians, including their athletes, to enjoy good quality and healthy dairy products to improve their physical training performance.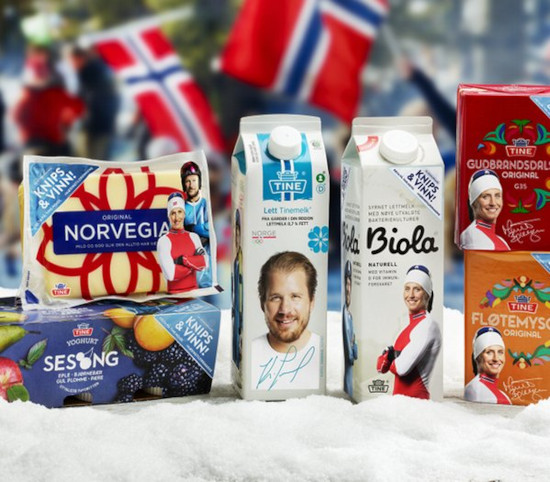 Norwegian dairy cooperative organization, TINE has been partnering with athletes to promote healthier dairy products in Norway. Photo: TINE
China consumers and the increased demand for healthier dairy products
China has seen a tremendous increase in demands for dairy products, following the rise of the middle-class groups, they also have a stronger focus on a healthier lifestyle and food produce. The Chinese consumers are willing to pay extra for healthier and more sustainable food products and that includes dairy. The dairy industry in China has experienced substantial growth, although most of the milk sold in the market is still produced in the traditional family-owned smallholding, a transition to large-scale dairy production is occurring.
Norwegian Red genetics in China
With the increased focus on sustainability and healthier food consumption within the Chinese consumer trends, dairy farmers are in the front line to source superior cattle genetics that can help improve their dairy product quality and make it healthier and safer to consume. This can be achieved by having healthier and more fertile herds, which in the long run are also profitable for the farmers.
To help anticipate this demand, Norwegian Red genetics has been introduced to Chinese dairy farmers for more than 15 years. Through a strong partnership with Bergen Investor AS, China, Norwegian Red genetics and crossbred cows are now growing and performing well in the market. With the strong support from Bergen Investor AS, Geno is currently working on a cooperation with Sanyuan, a state-owned company and China's 7th largest farming group with 90.000 cattle. In 2020, a delegation from Sanyuan also visited Geno and the Ministry of Agriculture in Norway to discuss the partnership.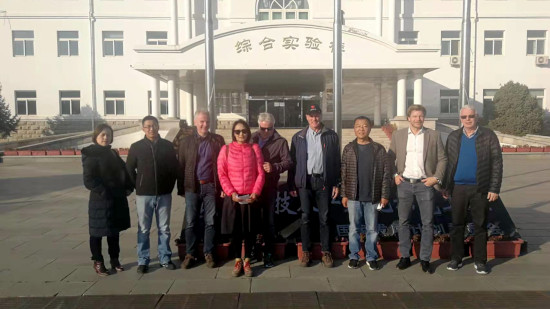 Geno and Bergen Investor visiting Sanyuan office and farms in Beijing, located near the Olympic venue. Photo: Bergen Investor
Health and fertility in focus since 1935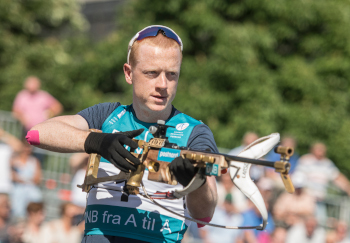 Endurance and robustness, Johannes Thingnes Boe is a Norwegian gold medallist in biathlon. Photo: Vegard Breie
Just like Norwegian athletes, endurance, robustness, and overall health have always been the focus traits for Norwegian dairy farmers when managing their herds. Thanks to our health recording system and the broad breeding goal initiated by Norwegian Farmers since 1935, Geno has been able to demonstrate great genetic achievements in these important traits from its Norwegian Red breeds.
Feed efficiency is another focus trait for Norwegian Red cattle. Since the Norwegian reds are relatively small in body size compared to Holstein's breed, the need for maintenance energy is less than the bigger cows. Crossbreeding with Norwegian Red offers a cow with the same production capacity as a bigger cow. On average, Crossbreeding with Norwegian Red could save you up to $101*, £74, or €83 per cow per year when using top Norwegian Red bulls, due to lower feed costs. A healthy cow doesn't need antibiotic treatment. The low use of antibiotics in the Norwegian Red population has also prevented the development of antibiotic resistance. Good fertility means fewer days open and more days in milk. A winner in both disciplines keeps on producing and benefits the farmers' economy.
Adapting to the Norwegian dairy consumption
Consumers in China just as in many other countries are becoming more and more aware of the production process for the food products available in their markets. More consumers are demanding healthy, sustainable, and responsible food production. The motivation to spend more on food may differ. Some are looking at the health effects of fresh clean milk, others are more interested in sustainability and the total impact of the dairy industry on the environment. Norwegian Red genetics with cows that keep on producing, can deliver more healthy products per GHG emission unit than a cow spending more days in the sick pen or more days open.

Margins in dairy production are under pressure and the competition from other nutrients is increasing. NR genetics meets the economic expectations from the farmer and the needs of the picky consumers, both in China and in other countries.