The oldest individual cattle are now in their 3rd lactation. (First calf was born in February 2010.) Most of the traceable animals are in Inner Mongolia (north China) and Shanghai (of subtropical monsoon climate). The results over time show remarkable advantages of NRF gene regarding fertility, health and longevity, while milk yield is about the same.
1. Semen 1st service conception rate
In 2009, the 1st service conception rate of NRF semen was compared to Holstein semen. There were 165 inseminations with NRF semen and 2858 inseminations with Holstein semen, all to purebred Holstein cows.
The Conception rate is as follows: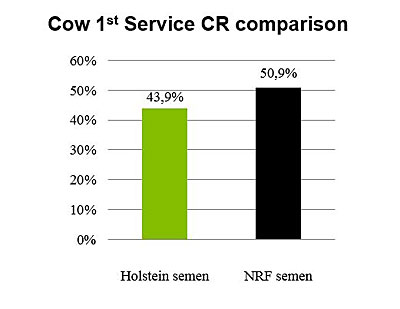 After 9 months, our trial farms again were very happy. The comments on the calving and F1 calves were:
Easy calving
The calves are smaller when calved, but grow faster
Good appetite
Close to people, good temper
Vital
Strong legs
Many are born to be polled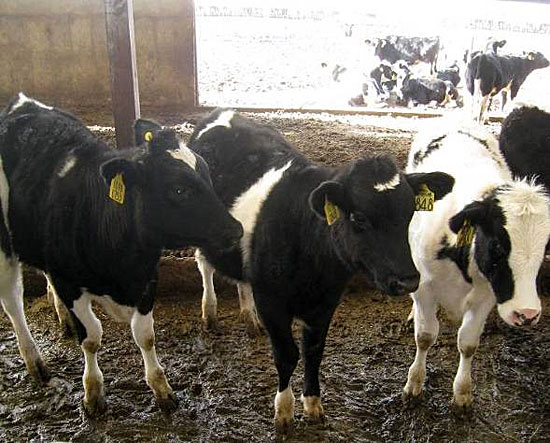 The calves are close to people and good tempered.
2. Heifer fertility
In 2011, crossbred heifers were inseminated. The 1st service conception rate in Inner Mongolia was 20% higher than their purebred Holstein herdmates. This result includes data from 36 1st service F1s and 487 purebred Holsteins. In Shanghai the statistics was about pregnancy rate, which means after a period of insemination, how much percentage of the heifers was pregnant. There are 51 heifers in either trial or control group. The results were: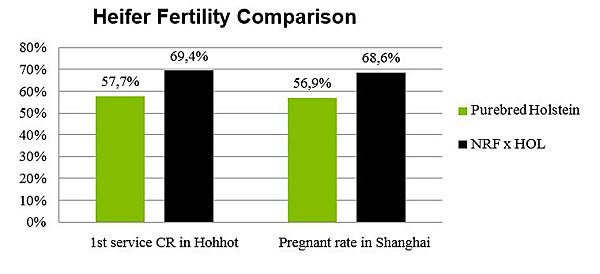 In 2012, these heifers were in their 1st lactation. 36 F1s and 520 purebred Holsteins were between 90-230 days after first calving. 23 and 254 respectively were known to be pregnant, and the comparison shows the same pattern: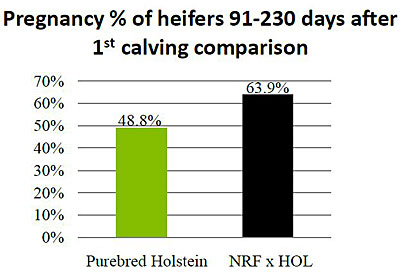 3. F1 (NRF x HOL) in milk
The first calving by NRF x HOL in China was in winter of 2011 in a farm in Shanghai. The farm had an average yield of 8580 kg, and for some special reason they inseminated their heifers only 11 months old.
According to the farm:
These heifers are very young, only 20 months old on average when calving, and a little smaller than pure Holstein. Feed efficiency is very good.
The calvings were normal and relaxed, and we are very happy how the calves look.
After calving, the heifers are spiritual and have good appetite. The manure looks good.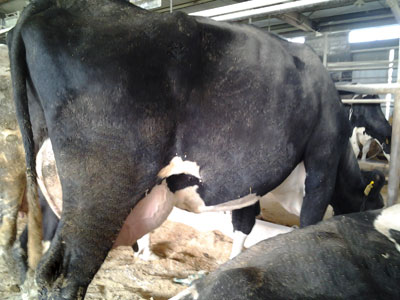 Five years old cow.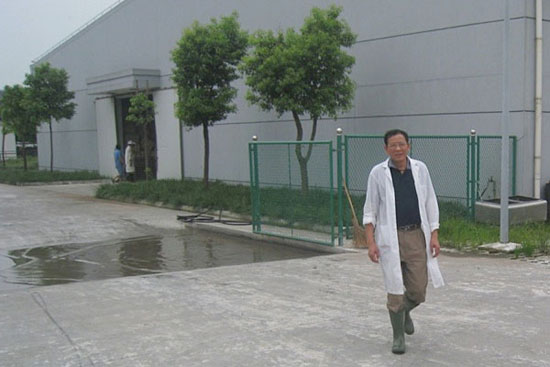 Mr. Xia, the president and owner of Shanghai Yinan Dairy Farm. The picture is taken on the farm.
This farm had 27 F1s and 52 purebred Holstein in control group. In their first lactation, the 305 days milk yield, fat and protein are: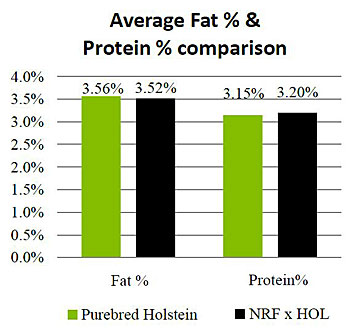 4. F1 mastitis / foot & leg diseases
In 2012, the heifers were in their 1st lactation. Disease comparison of 60 heads of NRF x HOL and 960 heads of purebred herdmates who are in 90-230 days after first calving are: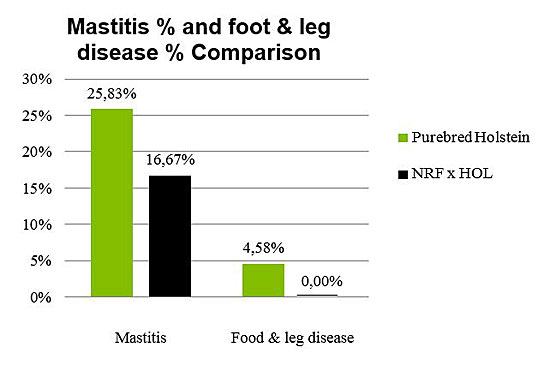 The statistics is based on disease frequency, regardless of whether it is same animal having it more than once.
5. F1 Longevity
The following shows the survival when the crosses are between 4.5-5 years old on one farm in Shanghai. Originally there were 27 heads of F1s and 52 heads of purebred Holsteins as control group. The alive percentage of NRF x HOL in Shanghai is 28.5% higher than purebred Holstein. In addition, the average culling/dying age of NRF x HOL is 25.8% more than purebred Holstein so far, which means F1 makes almost one extra lactation (287 days).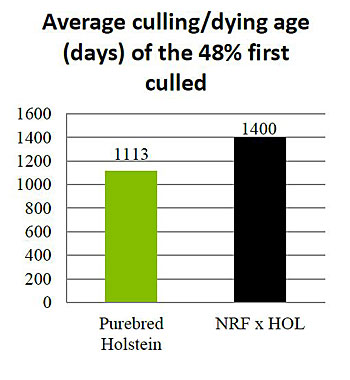 In Hohhot, a major part of the F1 and control group are 3.5 years old, and the others are same age as in Shanghai. The data include 269 heads of F1s and 2092 heads of purebred Holstein in the control group. The result shows that 66.9% of F1s and 55.2% of purebred Holstein are still living, which means there would be 21.2% more cows left in NRF x HOL herd.
There is also nearly a double risk for purebred Holstein just to die on farm compared to NRF x HOL. The dead animals cannot be sold to slaughtery house, which means a higher loss for farm compared to animals culled by veterinary.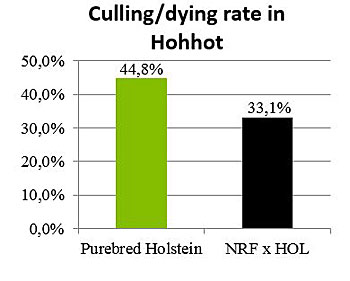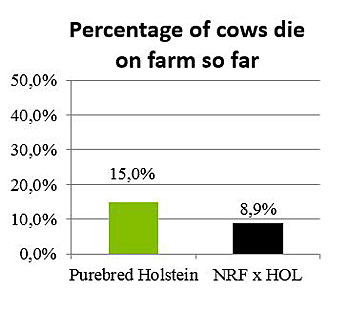 More details show the different causes for culling/dying. Independent of the culling/dying causes, Holsteins show significantly higher percentage (in total it is 44.8% compared to 33.1%). There are three purebred Holstein cows dead with no causes recorded, and they are categorized in "Blank".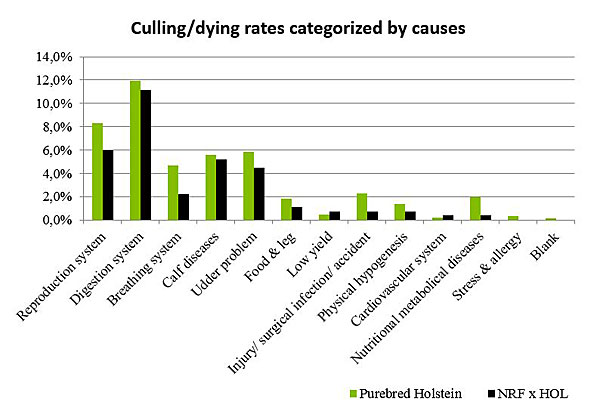 Conclusion
F1 (NRF x HOL) is much stronger regarding fertility, health and longevity (almost an extra lactation) compared with purebred Holstein, while the milk yield is about the same. Therefore, NRF x HOL makes more profit for the farm, and easier veterinary and reproduction work.